| | |
| --- | --- |
| | The solution to your wish fulfilment |
"TELSTRA AND BIGPOND CONSIDER APPLE MACINTOSH COMPUTERS TO BE NOT WORTH SUPPORTING?"
-- Since they are only 5% of Telstra's Market?
Ziggy opened his favourite Apple Mac Browser (NOT IE!) and entered: http:/10.0.0.138
This opened up the Alcatel ADSL modem management and Ziggy saw: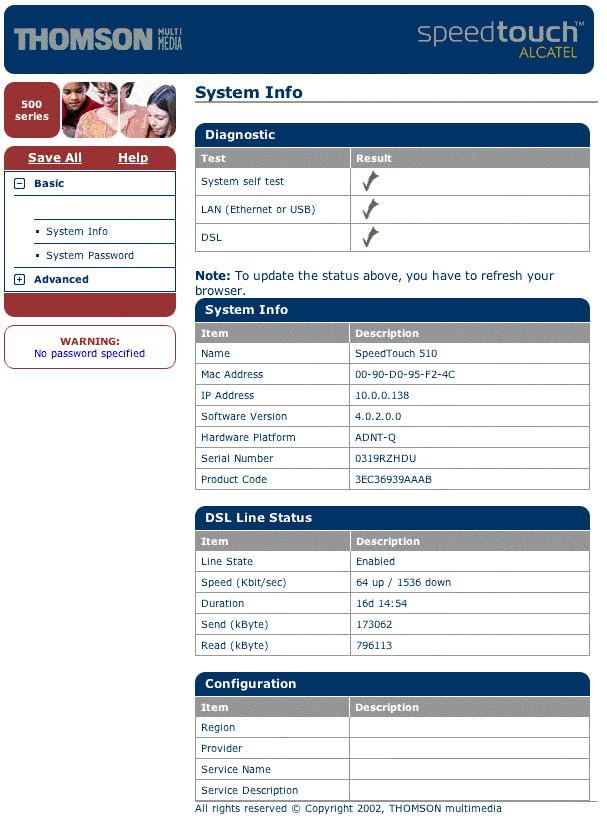 Ziggy could not enter a USERNAME or PASSWORD since Bigpond cannot configure this from the Mac side!! The Alcatel 510 ADSL modem, when received, is configured as a BRIDGE.
Ziggy created a folder, CLICKED THE "ADVANCED" TAB ABOVE and saved the configuration of the modem into this folder then uploaded one of the ".ini" files received from Alcatel and lo and behold, by clicking "Connect" that 'appeared' in the area above 'System,' he could enter his username and password into the modem and connect and disconnect the ADSL line AND, WHAT'S MORE, SHARE HIS LAN WHILE SURFING THE NET CONCURRENTLY!!!!!!
Ziggy had configured the modem as a ROUTER! IT TOOK LESS THAN ONE MINUTE!!
Something that Bigpond had stated THEY COULD NOT DO FROM THE MAC SIDE!!!!
HE SKETCHED THE FOLLOWING (Note that the "+" of the "Advanced" tab has been clicked):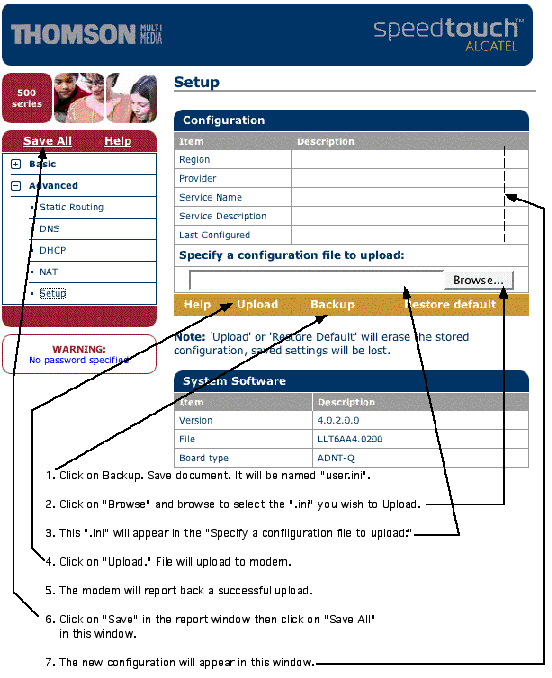 Ziggy says: Close "Advanced" by clicking on the "-"
Then click the "+" of "Basic" and you will see "Connect" has appeared.
Click "Connect" and enter your Username and Password.
Then "Connect" YOUR TRUE ADSL ROUTER!!!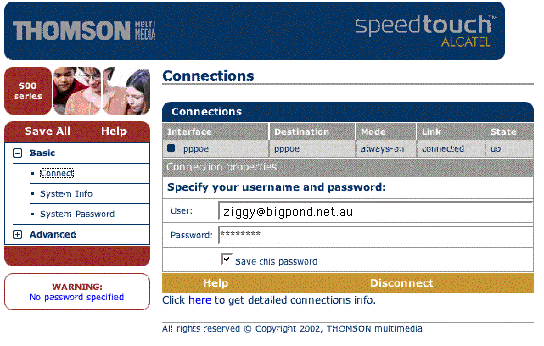 iwishihad, ponders even more and wonders why something that takes a minute to do is so DIFFICULT FOR TELSTRA AND BIGPOND but SO EASY FOR ZIGGY?
---
Comments invited. Click HERE. (Please have your mailer open.)
---
---

Mojave & Intel iMac i5 27"



---

Steve

---